(1) Electrons in antenna oscillate back and forth.

(2) This sends out an EM-wave* which is in the plane perpendicular to the line of oscillation (antenna).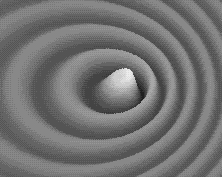 (3) This signal moves out in all directions at the speed of light.

(4,5) This is showing how the radio waves bounce off of convex and flat surfaces
(6) A satellite dish is a concave (parabolic) surface and hence it bounces the signal to the focal point.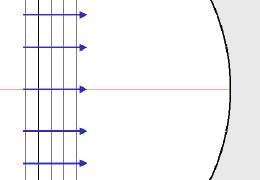 (7) The electrons at the focal point in the recieving antenna oscillate back and forth about the antenna in a wave pattern, the same pattern as was leaving the the transmission antenna at step (1).
(8) This signal is then amplified in the circuitry of the reciever... end transmission!
----------
*Note: The particular gif in image (2) shows a slight doppler shift (as if moving to the right because there is a larger frequency in that direction and a smaller one to the left), I chose this gif instead of the other one I was looking at merely because you can see the peaks and valleys easier than the other one I had looked at where the wave frequencies were depicted as uniform in all directions and the view was straight on instead of at an angle.